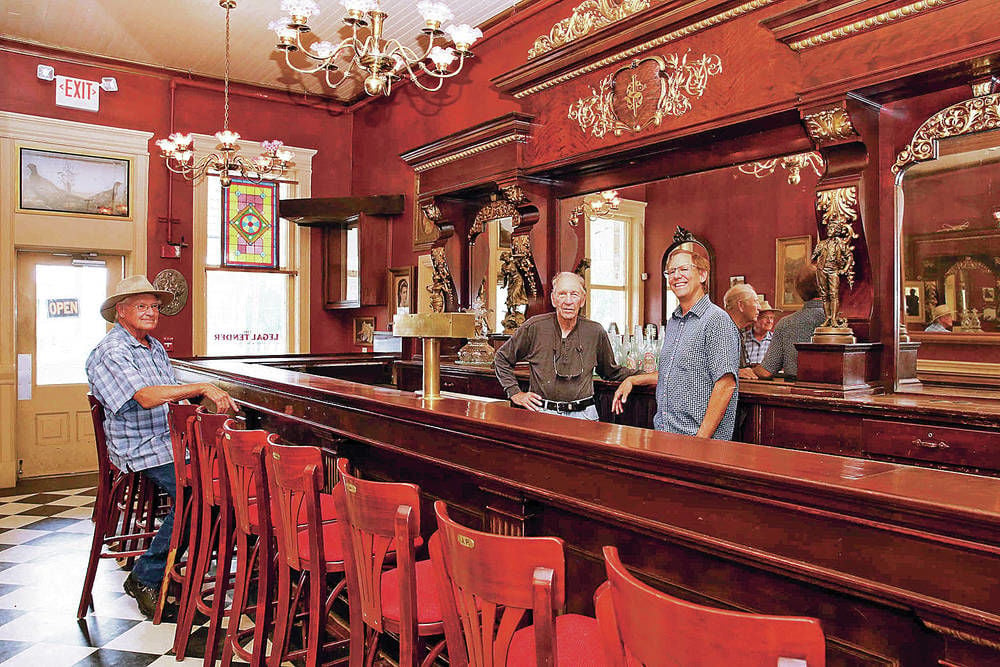 From left, Bob Sarr, former president of Santa Fe Southern Railway; Karl Ziebarth, CEO of Santa Fe Southern Railway; and new owner Allan Affeldt discuss plans Friday for the historic Legal Tender restaurant/saloon/museum in Lamy. Melanie Metz/For The Santa Fe New Mexican.
Entrepreneur Allan Affeldt, who acquired the La Castañeda hotel in Las Vegas, N.M., last year, has taken on another Northern New Mexico restoration project, this one in Lamy.
Affeldt, through a nonprofit he created in Arizona, acquired the historic Legal Tender restaurant and saloon building from the Lamy Railroad & History Museum, he confirmed Friday. The museum itself, located in the same building, and a Pullman dining car across the street were part of the transaction.
"There is no bar like that in Santa Fe or Lamy," Affeldt said. "It could be a really nice attraction." No money changed hands in the deal.
The transaction, which closed July 13, simply involved the Lamy museum board dissolving and transferring its assets to Affeldt's nonprofit Winslow Arts Trust, he said.
The Legal Tender, built in 1881, was placed on the National Register of Historic Places and donated to the nonprofit railroad museum in 2006, according to the museum's website. A distinguishing feature is an oaken bar imported from Germany and installed in 1884, according to the site.
The property, renamed the Legal Tender in 1970, was a nightspot popular with servicemen in transit along the Atchison, Topeka and Sante Fe Railway during World War II. It was called the Pink Garter in those days, according to Affeldt and museum officials. Sam Latkin, treasurer of the Lamy museum, said Affeldt's acquisition of the property signals a new, potentially successful chapter in its history. The restaurant and saloon, and the dining car that housed a cafe, went through a series of contracted operators before closing about two years ago.
The museum board had contacted Affeldt about taking over the property, Latkin said. He called the deal "a miracle.""We found somebody that is really good at preserving history and buildings and things," Latkin said. "He knows how to do it, and he's capable."
Michael Gintert, who operated a cafe in the Pullman dining car for five years, also said he was pleased with the deal."We're all excited," Gintert said. "Now that Allan is taking over, he's coming in with a lot more resources and has plans for it."
A complaint to the New Mexico Attorney General's Office alleging artworks and antiques have gone missing at the Lamy museum is still pending, an agency spokesman said Friday. Latkin said the claim, filed in January 2017 by Tom Hyland of Lamy, is without merit.
Prior to acquiring the hotel in Las Vegas, Affeldt had restored La Posada in Winslow, Ariz., an 80,000-square-foot historic hotel. Built in the 1930s, La Posada today is a favorite subject for travel writers and has been featured in Sunset magazine and the New York Times.
Both properties were part of the Fred Harvey Co. chain, which operated hotels along the Santa Fe Railway. La Posada, like La Fonda on the Plaza in Santa Fe, also a former Harvey House, was designed by Harvey architect Mary Colter.
The $5 million renovation of La Castañeda is ahead of schedule, Affeldt said. One wing may open in October and the remainder of the hotel in summer 2019.Another Harvey hotel, El Ortiz, once stood in Lamy.
Affeldt hopes to revive interest in the Legal Tender with the owner of the Santa Fe Southern Railway, which operated a tourist excursion line between Santa Fe and Lamy until 2013.
Santa Fe Southern owner Karl Ziebarth of Dallas could not be reached Friday afternoon for comment on whether the railroad would restore the excursion service.
The bar and restaurant used to benefit from the railway tourist traffic, Latkin said. "At different times, they used to bring people out for lunch and sometimes for dinner," he said. "We're not associated [with the railroad], but we sometimes worked together."
In the meantime, Affeldt is soliciting offers from prospective restaurateurs interested in running the bar and restaurant, he said. The kitchen and dining room are in good shape, he added, and there is a card room, too.
"The building is in pretty good condition," Affeldt said. "The saloon is the most beautiful in all of New Mexico."